This booklet from Oswald Chambers is presented in two parts with subsections as outlined here. First comes The Message of Invincible Consolation. This is followed by a section titled The Worker and Things As They Are. They reflect upon the passages of 2 Corinthians 4:16-18 and 2 Cor 6:1-10.
The Beyond Within
Therefore we do not lost heart. Even though our outward man is perishing, yet the inward man is being renewed day by day. (2 Cor. 4:16)
Ah, how I love these verses and the cries of longing that reach from hearts that know this truth. There are countless books and songs that wrestle this relationship we have with unseen things. Such is our story. I've often written about these very things myself. Our longing for the unseen stems directly from the brokenness of our reality. They go hand in hand. God formed us of dirt and placed us in a garden to walk the land, breathe the air, taste the fruit of the earth, and dwell in physical human form — and to know Him. We were made in a way that unseen things might pulse through these living veins. The seen and unseen were never meant for divorce. This earthly tent in which we dwell was meant for glory. Redeemed and remade, we live out of phase with the reality that surrounds us. Have we a heavenly mindset for our calling here on Earth?
A good test for a worker is to ask this question: Does my inner life wing itself higher with every wearing of the body in work for God? If we are going to walk in the experimental knowledge of sanctification and live where God wants us to live, we must be willing to spend and be spent to the last ebb. But if the outward man is perishing because of an injudicious waste of physical strength or because of wrong habits, then it will always make us faint, i.e., 'cave in'; and if we give up prayer and communion with God, then the decay goes on to a terrible extent; there is no corresponding inward weight of glory, no inner winging.
If we put the body and the concerns of the body before the eternal weight of glory, we will never have any inner winging at all, we will always be asking God to patch up this old tabernacle and keep it in repair. But when the heart sees what God wants, and knows that the body must be willing to spend and be spent for that cause and that cause alone, then the inner man gets wings.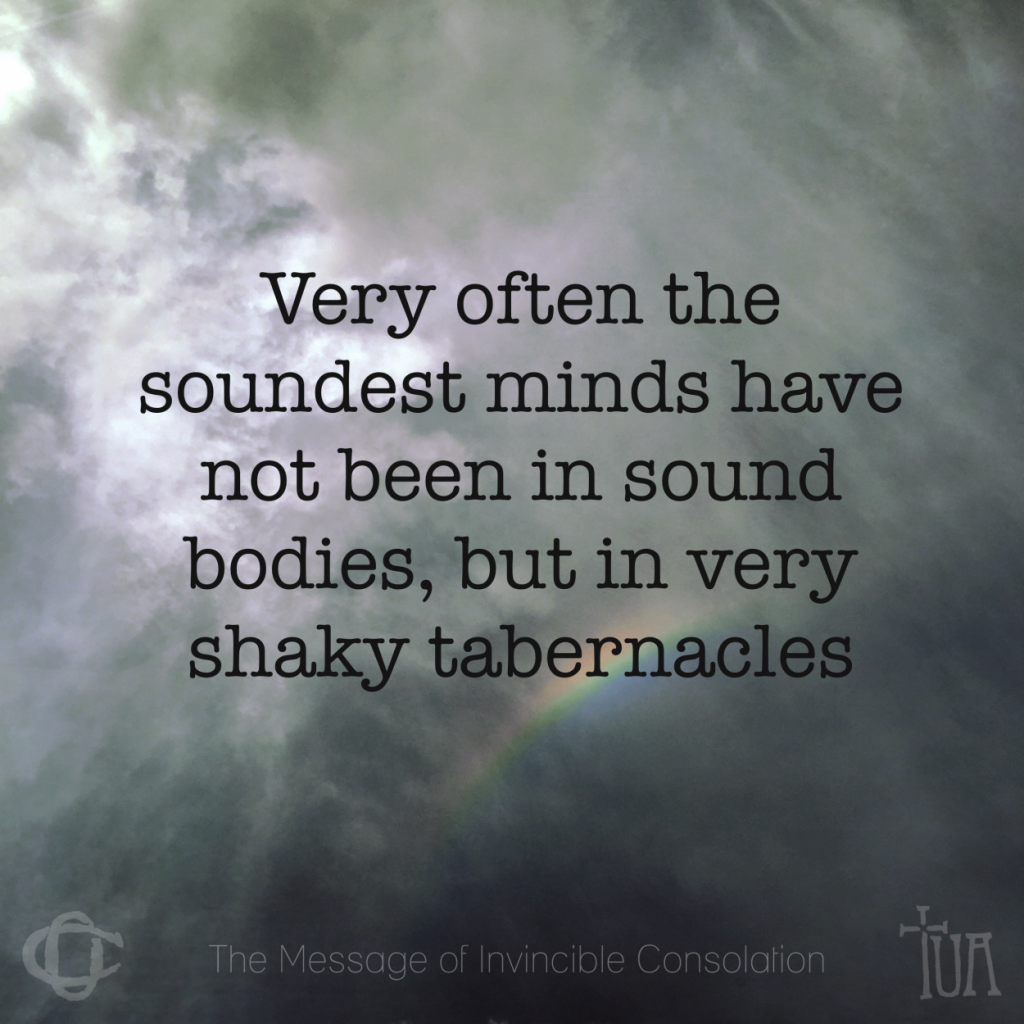 The Beautifying Work
For our light affliction, which is but for a moment, is working for us a far more exceeding and eternal weight of glory… (2 Cor. 4:17)
I once began writing a book and it opened with this vision of glory. It often comes to mind when I encounter this verse. Here's a brief bit from the first paragraph:
These mysterious things hinted at a place towards which the deeper recesses of his heart were ever inclined … a place beyond the horizon … a place to which he must return. So, there, in the dark, early morning, Ahtyd again found himself homesick … longing to be bound beyond dreams, beneath the weight of glory.
There is a comfort that cannot be overcome – an invincible consolation. Though we've been enlisted in the battle, we rejoice in the knowledge that Jesus reigns victorious. We need not only endure the afflictions of this world, but we rejoice in them as they work for us a far more exceeding and eternal weight of glory. We need not despair — glory is near.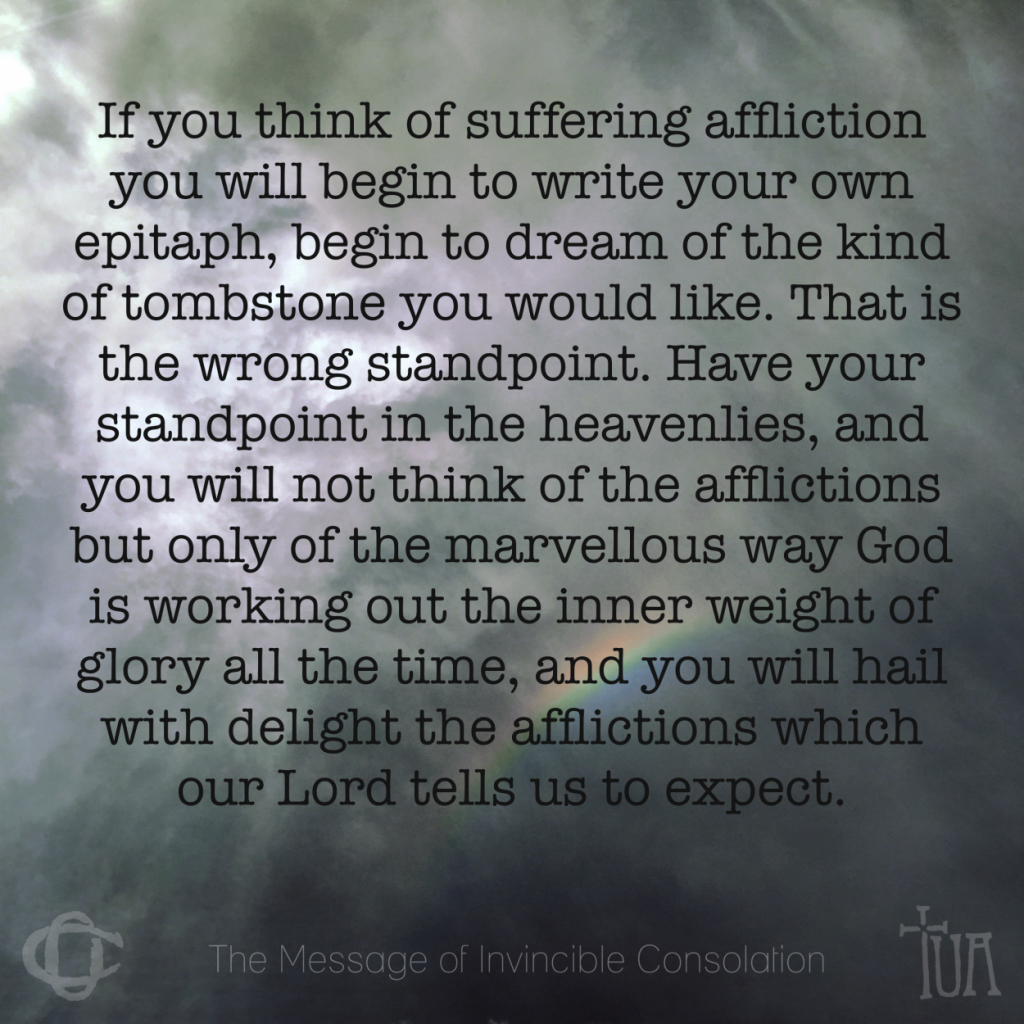 The Blessed Vision
… while we do not look at the things which are seen, but at the things which are not seen. For the things which are seen are temporary, but the things which are not seen are eternal. (2 Cor. 4:18)
And so, as deep calls to deep, we are given a vision of glory. We are renewed, restored, and our broken and burdened hearts are reclaimed for glory's sake. It is not just that our heavenly mindedness rights us for eternity, but it rights us for earthly living. We are not only given a vision of the unseen things to come, but of the unseen things that God would have us manifest today. This portion reminded me of where we began this journey. Then, we read of The Graciousness of Uncertainty and here, it seems, Chambers introduces us to the graciousness of affliction.
Considering afflictions as 'a means of grace'. 2Cor4:16-18 #MissionText pic.twitter.com/91eW7fOHRR

— Ua Vandercar (@UaMV) September 29, 2015
The Worker and Things As They Are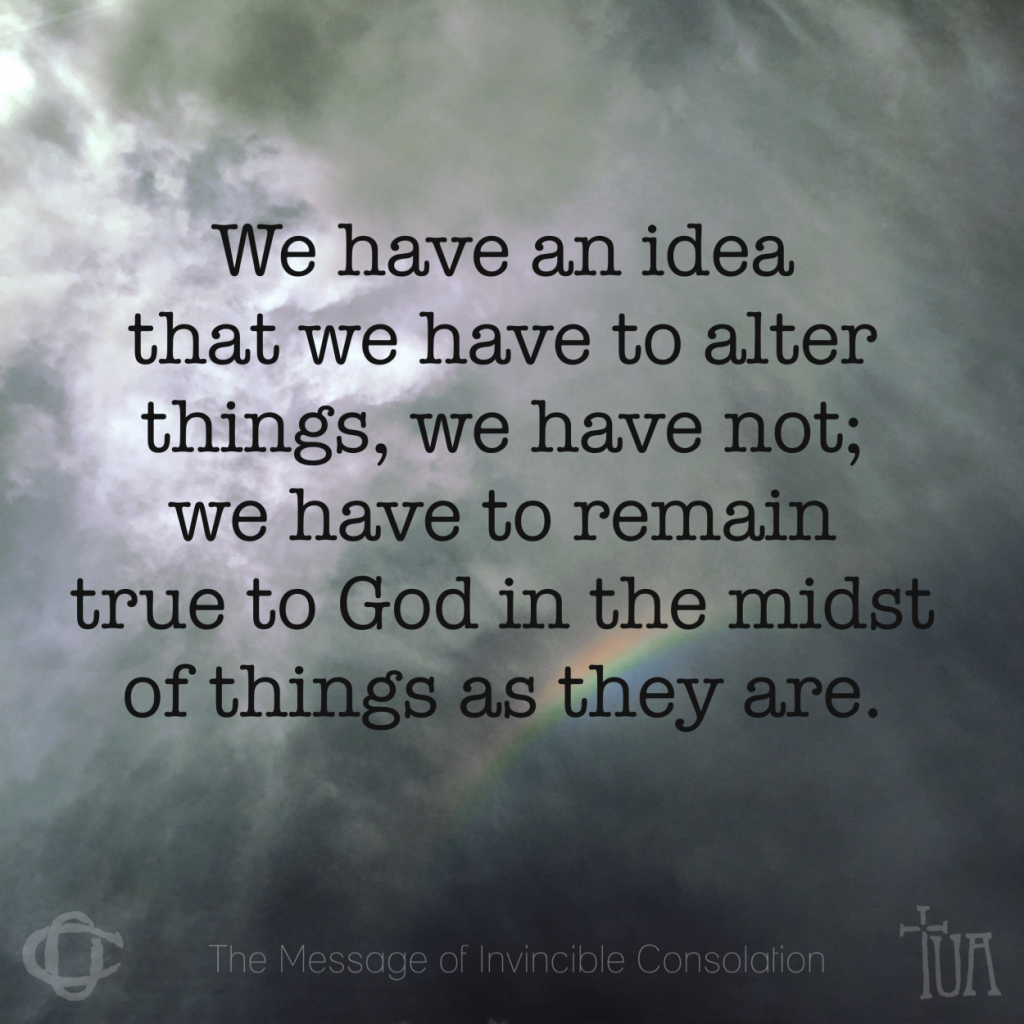 We then, as workers together with him also plead with you not to receive the grace of God in vain. For He says: "In an acceptable time I have heard you, and in the day of salvation I have helped you." Behold, now is the accepted time; behold, now is the day of salvation. (2 Cor. 6:1-2)
The Worth to God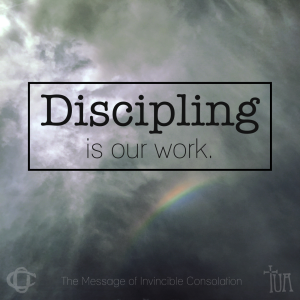 When God's great redemptive work has issued in lives in salvation and sanctification, then the work of the worker begins.
We are God's fellow workers. Our work is not to save souls — such is of the Spirit. Our work is to love Him and to love one another. In prayer and in listening to the Holy Scriptures, we devote ourselves to God — we commit ourselves to the Truth — relationship restored. And, in loving our neighbor, in caring for the poor, the down-trodden, the oppressed, the widowed, the orphaned, we work for His kingdom come on earth. May we so discipline our lives and encourage others in the same.
The Wooing of God
It is not the tones of a man's speech, or the passion of a man's personality, it is the pleading power of the Holy Ghost coming through him; consequently the worker has no sympathy with things with which God's Spirit has no sympathy.
The World's Coarse Thumb
We give no offense in anything, that our ministry may not be blamed. (2 Cor. 6:3)
The world is glad of an excuse not to listen to the Gospel message, and the inconsistencies of Christians is made the excuse. #MissionText

— Ua Vandercar (@UaMV) October 1, 2015
The Wheel of Circumstances
But in all things we commend ourselves as ministers of God: in much patience, in tribulations, in needs, in distresses, in stripes, in imprisonments, in tumults, in labors, in sleeplessness, in fastings; by purity, by knowledge, by longsuffering, by kindness, by the Holy Spirit, by sincere love … (2 Cor. 6:4-6)
Holiness can only be worked out in and through the din of things as they are. God does not slide holiness into our hearts like a treasure box from heaven and we open the lid and out it comes; holiness works out in us as it worked out in our Lord. The holiness of God Almighty is Absolute; that is, it knows no development by antagonism. The holiness exhibited by the Son of God, and by God's children is the holiness which expresses itself by means of antagonism.
The Wine of God
… by the word of truth, by the power of God, by the armor of righteousness on the right hand and on the left, by honor and dishonor, by evil report and good report; as deceivers, and yet true; as unknown, and yet well known; as dying, and behold we live; as chastened, and yet not killed; as sorrowful, yet always rejoicing; as poor, yet making many rich; as having nothing, and yet possessing all things. (2 Cor. 6:7-10)
You cannot be poured out wine if you remain a whole grape; you cannot be broken bread if you remain whole grain. Grapes have to be crushed, and grain has to be ground; then the sweetness of the life comes out to the glory of God.
We live in the space between dearth and glory. This is the weight with which we live. It is but a light affliction. And yet, it is near to nothing as we anchor in hope — assured of the faithfulness of God.
Reflect On
2 Corinthians 4:16-18
2 Corinthians 6:1-10

Praise God
the glory of His holy name.
Offer Thanks
for the sublime moments in which we sense the unseen things.
Confess
your worries.
Ask God
to assure you of His graciousness — even in and through the trials.
Comment:
Tell of a moment when you were homesick for that true home.
How is it, do you think, that these afflictions work for us a weight of glory?

Other posts in this #MissionText series:
#MissionText • The Graciousness of Uncertainty • The Making of a Christian • Now Is It Possible— • The Discipline of Divine Guidance • The Fighting Chance • The Discipline of Loneliness • #MissionText: Considering Copyright • Thy Great Redemption • Talks on the Soul of a Christian • The Highest Good • Our Brilliant Heritage