These things I have spoken to you, that in Me you may have peace. In the world you will have tribulation; but be of good cheer, I have overcome the world. (John 16:33)
Who shall separate us from the love of Christ? Shall tribulation, or distress, or persecution, or famine, or nakedness, or peril, or sword? As it is written: "For Your sake we are killed all days long; we are accounted as sheep for the slaughter." Yet in all these things we are more than conquerors through Him who loved us. For I am persuaded that neither death nor life, nor angels nor principalities nor powers, nor things present nor things to come, nor height nor depth, nor any other created thing, shall be able to separate us from the love of God which is in Christ Jesus our Lord. (Romans 8:35-39)
In these verses Paul does not mention the ordinary trials of life He mentions the imperilling experiences which thousands have gone through these past years, distress and anguish which hold the eyes too much awake to sleep, tribulation that tears and lacerates everything; but, he says, the love of God is untouched by these experiences. That love renders impotent the strength of our most formidable enemy. Any of the elemental ministries, life, death, things present, things to come, may kill the castles built by human love; may remove and shatter them like an incoming tide. Their strength is overwhelming. But these things are powerless to touch the love of God in Christ Jesus.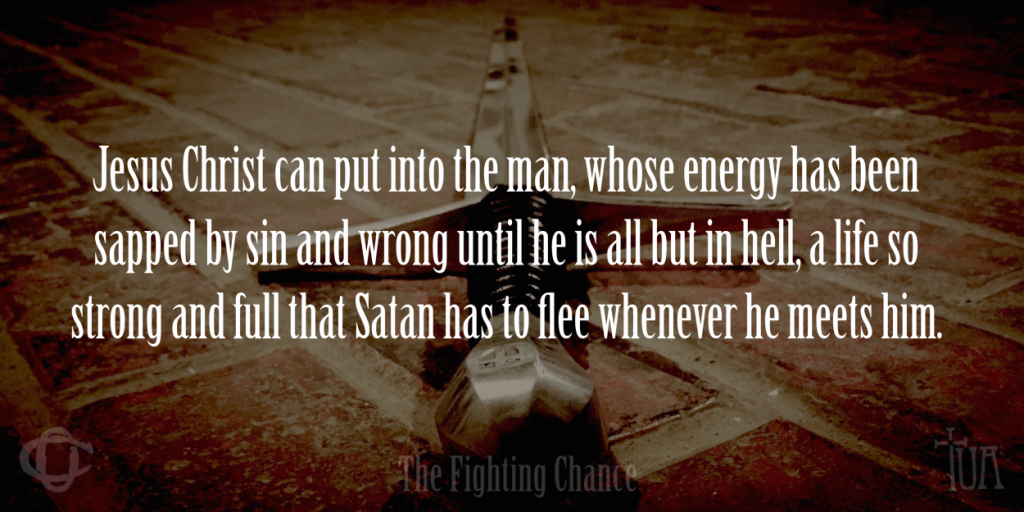 In The Fighting Chance, Oswald Chambers walks us onto a hillside overlooking the battle for our soul. In studying the war, He points out how we will fight on the mental, moral, and material fields. He strategizes with us in the skills of natural and supernatural manoeuvres. He fits us for the fight that we might know the victory given us in Jesus.
Chambers addresses how we will be assaulted upon entering the fray by picking apart these verses from Romans 8. He gives insight and encouragement in response to each point at which attempts will be made to separate us from the love of God in Christ Jesus.
Shall tribulation separate us? No.
Shall distress? No.
Persecution? No.
Famine, nakedness, peril, sword? No. No. No. No.
Death? Life? No!
Angels? Principalities? Powers? Uh-uh.
Things present? Things to come? No way!
Height? Depth? No!
Any other created thing? No other created thing.
Are we even aware that there is a battle being waged? It is a grander ordeal than the small annoyances we face each day — though those may well weaken us for our frontline engagements. Get to know this truth — that you have been enlisted as a warrior. And get to know this greater truth — we have victory in Christ. What does that mean for the fight? It means that we have been given a fighting chance and shall prevail — not only as conquerors, but as more than conquerors. God fit you for the fight.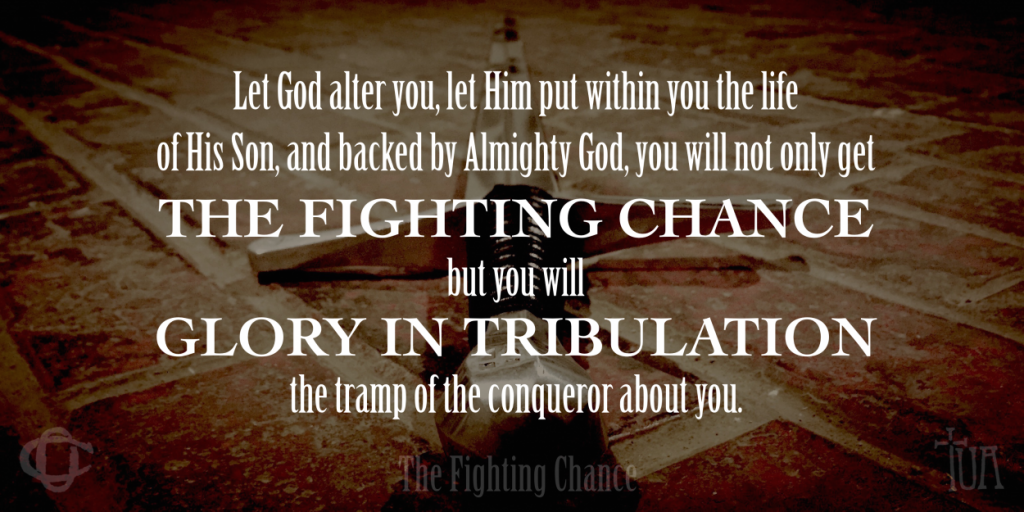 Here are some excerpts for your consideration:
God can impart to a man the power to select what his mind thinks, the power to think only what is right and pure and true.
'All that will live godly in Christ Jesus shall suffer persecution,' says Paul, and our Lord says the same thing—men will make you destitute of their society, they will cut you dead, and when they do speak of you, they will speak evil. No man knew this better than the apostle Paul, and what did he do? He despised being despised! Persecution does not leave us alone, it is systematic vexation, something that throngs us; but to be boycotted means to be left alone, destitute of the comrades you used to have—'they think it strange,' says Peter, 'that ye run not with them to the same excess of riot.' But they don't know that you carry a wonderful kingdom within, a kingdom full of light and peace and joy no matter how destitute and alone you may be on the outside. That is the wonderful work of the Lord in a man's soul. 'Rejoice ye in that day, and leap for joy.'
It is never stated that God has provided a place for men who will not come to Him; it is implied with solemn warning that the only place they can go to is that 'prepared for the devil and his angels.' The good angels are a host and the bad angels are a host. To-day spiritualism is having tremendous vogue; men and women are getting in to communication with departed spirits and putting themselves in league with the unseen powers. If you have got as far as reading fortunes in tea-cups, stop. If you have gone as far as telling fortunes by cards, stop. I will tell you why—the devil uses these apparently harmless things to create a fearful curiousity in the minds of men and women, especially young men and women, and it may bring them into league with the angelic forces that hate God, into league with the principalities and the rulers of this world's darkness. Never say, 'What is the harm in it?' Push it to its logical conclusion and ask—'Where will this end?' You are absolutely safe as long as you remain under the shelter of the atonement; but if you do not (I do not care what your experiences are), you are absolutely unsafe, at any minute dangers may beset you, terrors and darkness may take hold of you and rack your life with terrific perils. God grant we may keep as far away from these things as we can. But if in the strange providence of God you find you are near a spiritualist meeting, pray, and keep on your praying, and you will paralyse every power of the medium if he is genuine. No spiritualistic séance can continue if there is a Christian anywhere near who knows how to lay hold of God in prayer; no spirits will communicate. I could tell you wonderful stories of how God's power has worked. Blessed be God, Jesus Christ's salvation makes us more than conqueror over the angelic forces.
Death is a great dread. It is easy to say that God is love until death has snatched away your dearest friend, then I defy you to say that God is love unless God's grace has done a work in your soul. Death means extinction of life as we understand it; our dead are gone and have left an aching void behind them; they do not talk to us, we do not feel their touch, and when the bereaved heart cries out nothing comes back but the hollow echo of its own cry. The heart is raw, no pious clatter, no scientific cant can touch it. It is the physical calamity of death plus the thing behind, which no man can grasp, that makes death so terrible. We have so taken for granted the comfort that Jesus Christ brings in the hour of death that we forget the awful condition of men apart from that revelation. Do strip your mind and imagination of the idea that we have comfort about the departed apart from the Bible; we have not. Every attempt to comfort a bereaved soul apart from the revelation of Jesus Christ brings in a vain speculation. We know nothing about the mystery of death apart from what Jesus Christ tells us; but blessed be the Name of God, what He tells us makes us more than conquerors, so that we can shout the victory through the darkest valley of the shadow that ever a human being went through.
By the help of God's Spirit I want, for one moment, to lift the veil from the unseen world as the Bible reveals it that we may understand what a marvellous salvation we have; a salvation that keeps us not only from dangers we see and know, not only from sin and all we understand as the works of the devil, but a salvation that keep us from dangers we know nothing about. Oh, there are tremendous possibilities around us!
Let God have His way, and He will turn the drama of your life into a doxology, and you will understand why the Psalmist breaks out with the words, 'Oh that men would praise the Lord for His goodness, and for His wonderful works to the children of men!' Jesus Christ can make the weakest man into a Divine dreadnought, fearing nothing.
Watch, stand fast in the faith, be brave, be strong. Let all that you do be done with love. (1 Corinthians 16:13-14)
Reflect On
John 16:33
Romans 8:35-39

Praise God
for His power and majesty.
Offer Thanks
that the blood of the Lamb has overcome.
Confess
those times when you have shirked the call to arms, choosing instead a retreat to what seems safe.
Ask God
to equip and strengthen you for the fight.
Comment:
What battles threaten your life in Christ?
In what ways have you experienced victory in Jesus?
Edit: I forgot that I wanted to include this song. During the days reading through this booklet, I happened upon Keep on the Firing Line (which I had never heard). I'm sure there are many songs that address our call to fight the powers that come against the love of God for us – this one seemed striking at the time.
Other posts in this #MissionText series:
#MissionText • The Graciousness of Uncertainty • The Making of a Christian • Now Is It Possible— • The Discipline of Divine Guidance • The Message of Invincible Consolation • The Discipline of Loneliness • #MissionText: Considering Copyright • Thy Great Redemption • Talks on the Soul of a Christian • The Highest Good • Our Brilliant Heritage