Have you ever read an article that just stuck? Years ago, while working at Camp Lutherhaven, I was introduced to Discipleship Journal, a now retired NavPress publication. In one issue, there was an article about the voice of God and how we can best tune our ear to hear Him. After having read the article, I jotted the following notes & quote and tucked them in my Bible. I don't remember much else from that piece, but I would happen upon this folded sheet of paper from time to time.
Within the past two years, or so, it found its way out of my Bible and has been lost a time or two. A portion of the sheet has now been ripped away – in order, I suppose, to serve some small purpose of its own. The remnants continue to wear. I thought that before it is lost again or wears away to nothing, I ought to share it here. I hope you benefit.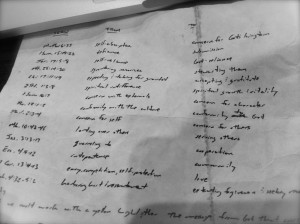 The following table was presented by the author. He suggested that when weighing a decision, one should consider and pray over these things. And, if a course of action would do well in leading you from the ungodly to the Godly, it may well be pursued. In this way, we can modeestly map and navigate what God might will for us in each situation and in each choice that confronts us.
I can't remember the author of this article. If you know, I'd let m know so that I can give proper attribution. I did take note of the following quotations from Roc Bottomly (who may well be the author of the full article).
If we could mark with a yellow highlighter the messages from God that cross our minds, we'd see yellow daily.
It's easy to forget that when two of us are talking there are three in the room and it's that third person's voice that we most need to hear. We need to keep one ear tuned to God while we listen to the person with the other. Sometimes, we both need to stop talking and listen to God.
Oh, that we might listen. Still our hearts, Lord. Lay us bare before Your grace and love. Turn our desire toward You. It is so easy to numb ourselves amidst the onslaught of this worlds offerings. It is too tempting to embrace the machinations of our own minds. Soften us. Set us right. Lift Your voice just enough to gather our attentions again. And then, whisper the wind and send Your word as mist among us – resfreshing our weary souls.
Reflect On
the above passages
Praise God
that His word is full or grace and truth
Offer Thanks
for His messages we might highlight yellow
Confess
those times when you may have stopped up your ears
Ask God
to pluck you from the madness of daily life into a rhythm of rest
to tune your ear to that third voice in every conversation
 Comment
Can you think of other items that might be added to this list?
What decisions are you facing that could benefit from a new perspective?