Our vehicle failed us yesterday. We had it into a number of mechanics prior to our departure who all gave promising reports and encouraged us to keep driving. And so we did … until now.
Seems to be a perfect storm. After nearly 20 hours on the road, the ABS light came on and shortly after, the battery light. We stopped to investigate and could not then restart. While investigating we noticed leakage from the rear diff that was recently serviced and oil spots under the front.
We spent some time at the Wimpy waiting for a flatbed that returned us to Kroonstad (nearly 80 kilometers back down the road), where the parents of Ewald and Bron's friend from house group graciously took us in for the evening. (Ever ridden in a van atop a flatbed through a South African night? Quite the time. Not how I imagined first taking in the night sky, but a nice trip.) we warmed ourselves from the chill of night with sherry and wine and, after a midnight meal, we took some much needed rest.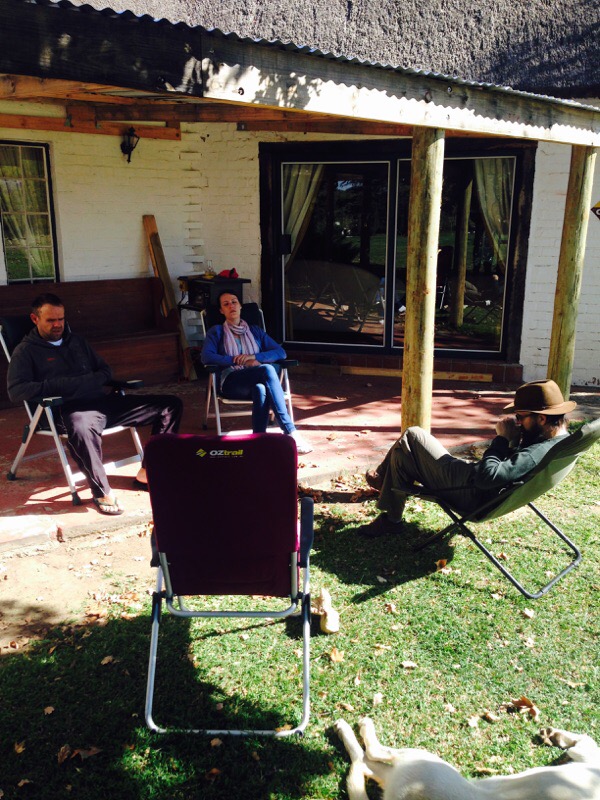 Today, we wait and wonder, and continue to pray the way forward. We have had many words given us through friends, and the fellowship in the Wors and prayer. We seek clarity and discernment regarding what such words mean for us today. Please, join us in praying over these:
Preparation
Foundation
Field & Building
Titus
When I came to Troas to preach the gospel of Christ, the Lord opened a door for me. I had no rest in my spirit because I did not find my brother Titus, but I said good-bye to them and left for Macedonia.
But thanks be to God, who always puts us on display in Christ and through us spreads the aroma of the knowledge of Him in every place. For to God we are the fragrance of Christ among those who are being saved and among those who are perishing. To some we are an aroma of death leading to death, but to others, an aroma of life leading to life. And who is competent for this? For we are not like the many who market God's message for profit. On the contrary, we speak with sincerity in Christ, as from God and before God. (2 Corinthians 2:12-17, HCSB)
 "Therefore, everyone who hears these words of Mine and acts on them will be like a sensible man who built his house on the rock. The rain fell, the rivers rose, and the winds blew and pounded that house. Yet it didn't collapse, because its foundation was on the rock. But everyone who hears these words of Mine and doesn't act on them will be like a foolish man who built his house on the sand. The rain fell, the rivers rose, the winds blew and pounded that house, and it collapsed. And its collapse was great! "
When Jesus had finished this sermon, the crowds were astonished at His teaching, because He was teaching them like one who had authority, and not like their scribes. (Matthew 7:24-29, HCSB)
What then is Apollos? And what is Paul? They are servants through whom you believed, and each has the role the Lord has given. I planted, Apollos watered, but God gave the growth. So then neither the one who plants nor the one who waters is anything, but only God who gives the growth. Now the one planting and the one watering are one in purpose, and each will receive his own reward according to his own labor. For we are God's coworkers. You are God's field, God's building. According to God's grace that was given to me, I have laid a foundation as a skilled master builder, and another builds on it. But each one must be careful how he builds on it. For no one can lay any other foundation than what has been laid down. That foundation is Jesus Christ. If anyone builds on that foundation with gold, silver, costly stones, wood, hay, or straw, each one's work will become obvious, for the day will disclose it, because it will be revealed by fire; the fire will test the quality of each one's work. If anyone's work that he has built survives, he will receive a reward. If anyone's work is burned up, it will be lost, but he will be saved; yet it will be like an escape through fire.
Don't you yourselves know that you are God's sanctuary and that the Spirit of God lives in you? If anyone destroys God's sanctuary, God will destroy him; for God's sanctuary is holy, and that is what you are.
No one should deceive himself. If anyone among you thinks he is wise in this age, he must become foolish so that he can become wise. For the wisdom of this world is foolishness with God, since it is written: He catches the wise in their craftiness; and again, The Lord knows that the reasoningsof the wise are meaningless. So no one should boast in human leaders, for everything is yours — whether Paul or Apollos or Cephas or the world or life or death or things present or things to come — everything is yours, and you belong to Christ, and Christ belongs to God. (1 Corinthians 3:5-23, HCSB)
But meanwhile, also prepare a guest room for me, for I hope that through your prayers I will be restored to you. (Philemon 1:22, HCSB)
But God, who is rich in mercy, because of His great love that He had for us, made us alive with the Messiah even though we were dead in trespasses. You are saved by grace! Together with Christ Jesus He also raised us up and seated us in the heavens, so that in the coming ages He might display the immeasurable riches of His grace through His kindness to us in Christ Jesus. For you are saved by grace through faith, and this is not from yourselves; it is God's gift — not from works, so that no one can boast. For we are His creation, created in Christ Jesus for good works, which God prepared ahead of time so that we should walk in them. (Ephesians 2:4-10, HCSB)
Whatever house you enter, first say, 'Peace to this household.' If a son of peace is there, your peace will rest on him; but if not, it will return to you. Remain in the same house, eating and drinking what they offer, for the worker is worthy of his wages. Don't be moving from house to house. When you enter any town, and they welcome you, eat the things set before you. Heal the sick who are there, and tell them, 'The kingdom of God has come near you.' (Luke 10:5-9, HCSB)
Dieter awoke this morning with some vivid image of us arriving at an event, but the game had changed. He considered it as a confirmation that we must now shift from asking "What?" to "How?"
So, if we're moving on in such a way, what is the "What?" I think of it beyond this one trip we are now on. I think of it as preparation, of setting a blueprint, of cultivating the soil. So, how are we to do this? How does it look for us here and now? How are we to prep for the construction and growth of freeWord?
I think Dieter and I had identified some of these things during our first few days. I'll outline those in a future update.
We don't know what tomorrow may bring, but we are open and we trust. Let us know if you have any further word for us. Thank you for your continued prayers – may they work like gravity among us now.