UPDATE (10.9.13)
As of 10.8.13, the P*gram Fine Control plugin is no longer supported. All features provided by this plugin have been integrated into the official Pressgram plugin. Installing the official plugin? Be sure to deactivate & deleted P*gram Fine Control to eliminate any conflict.
The following post is for all my friends in the new-found Pressgram community. If you blog, take pictures from your phone, and have not yet been introduced to Pressgram, you should really consider checking out this community of rebels with a cause. In this post, I do not intend to herald the benefits of Pressgram … there are many other posts doing just that. I do want to introduce you to P*gram Fine Control, a plugin for self-hosted WordPress blogs that may improve your use of Pressgram. (Note, this is a personal project and not officially released by Pressgram. Thus, the use of P*gram.)
Pressgram was released September 4 — one year, to the day, after inception of the idea. Even until the following day, I had heard nothing of the project. Thankfully, while partaking of lunch, Feedly fed me an article announcing its release. I was hooked from the beginning. I immediately downloaded the app and set up an account. (I know … totally contrary to my own advice … I'll report more on that progress soon). Having become quite fond of WordPress this past year, I was excited to have a tool that would allow me to simply photoblog content to my family's own site. I downloaded the official Pressgram WordPress plugin and was set. I can now easily push photos to our blog. See?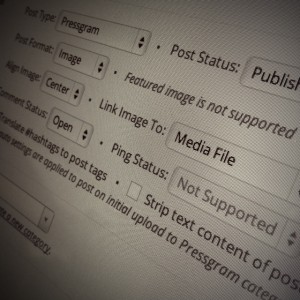 Unfortunately, there were some immediate features that I found lacking in the WordPress plugin. As the support forums reflect, others also desire more control on the receiving end — in the WordPress admin. Fortunately, my current work and personal ambitions have both allowed me opportunity to learn a few things about coding for WordPress this past year (i'm no professional coder, but i'm learning). And, it just so happened that I had a few days of time-off awaiting me in the coming week. I was primed for some pleasure coding.
I put together a bare-bones version of P*gram Fine Control and sent it on to @saddington for his thoughts. I know he's excited to see the community coming together and pitching in for the success of Pressgram. I continued to tweak and expand the functionality (many thanks to @scottwyden for some additional testing), but have held off on making PFC available via the WordPress repository, knowing that many of these features may soon be natively available in Pressgram. In the meantime … consider this my contribution to the community. So, how might you make use of this plugin?
Well, P*gram Fine Control, true to its name, offers finer control over the content you push to your blog via Pressgram. Consider the following use-cases:
---
Are you managing a collaborative blog and require approval before content is published?
PFC allows you to set a default Pressgram status to 'Pending'.
Would you rather not maintain a photoblog, but would still like your Pressgrams available for other blog posts you write?
With PFC, post Unattached Media to the media library and your images are ready for later use.
Do you prefer writing special image content or descriptions for in-app social engagement, but would rather this same content not be seen on your site?
Strip the Pressgram post content of all text.
Does your Fancybox or Lightbox use require an explicit image link?
Link your Pressgrams to the original image file.
---
A full list of the features/options can be seen below. Note, that when using P*gram Fine Control, you will need to have the official Pressgram Plugin installed on your site and will need to define your Pressgram category when uploading photos from the app.
Post Type
Post
(Custom Post Types w/ WP Category support)
Unattached Media (only saves image to media library)
Post Status
Published
Pending
Draft
Private
Post Format
(select from formats supported by current theme)
Featured Image
set as Feature Image (if supported by Post Type)
Align Image
Left
Center
Right
None
Link Image To
Media File
Attachment URL
None
Comment Status
Open (if supported by Post Type)
Closed
Ping/Trackback Status
Open (if supported by Post Type)
Closed
Tags
Translate #hashtags to post tags (if supported by Post Type)
Content
Strip text content of post (writes to caption for unattached media)
Here's to pressing forward in that final Epic Quest — the ultimate purpose for which Pressgram was built; yet, currently, the purpose for which it is being least utilized. Let's get pressing to the blogs, folks.
Download P*gram Fine Control (v1.7)
Note: Due to a bug in v1.6, a new version (1.7) is now available [9.17.13 – 4:40pm]
Update (10.5.13)
Please, note that a few features of v1.7 no longer work with the content posted by Pressgram. All features, including a few additional, may soon be released with the next version of the official Pressgram plugin. At that time, you will want to be certain to deactivate P*gram Fine Control, should you have it installed.