Tonight, we met at the offices of the Prayer League with staff, retired missionaries, students, and friends to ask for the work of the LORD in this world. We heard word and encouragement from the writings of Paul Lindell, a forebear of the mission. Even now, his words echo from days gone, urging us to march forth in the faith with which we have been graced. The LORD is our stay. God is our strength. Jesus is our life. And may we see the Spirit move.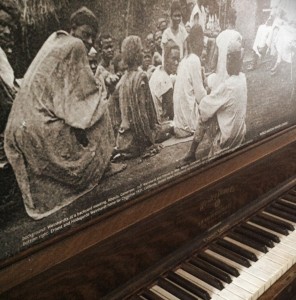 I've begun to again read through a series of devotions titled Streams in the Desert by L.B. Cowman. I first read this volume during my first year on mission with Youth Encounter. The pages are still edged with the grit from our travels in West Africa. It would seem I, too, am still edged with the same. The title says it well enough — these are words of life in the barreness. He writes in today's devotion:
"Imitate those who through faith and patience inherit what has been promised." (Hebrews 6:12)

The biblical heroes of faith call to us from the heights they have won, encouraging us that what man once did, he can do again.
And later …
Sainthood finds its source in suffering. Remember, it requires eleven tons of pressure on a piano's strings for it to be tuned. And God will tune you to perfect harmony with heaven's theme if you will withstand the strain.
Do you greet the day, in faith that God will sustain and provide for your needs? Do you surrender your heart, in faith that God will claim you and call you to a service that will not disappoint? Do you pray, in faith that God will accomplish His will on earth?
God is moving. What he has once done, he can (and will) do again. He will see the kingdom come. He will see His glory revealed among the nations. Do you want to be a part of this radical movement or would you sit idly by and watch as an unknown host of mankind perish for want of Living Water?
Paul Lindell reminded us tonight that prayer is less about questions and answers, and so much more about getting close to the will of God. Release yourself, then, from the responsibility of prayer as you may know it, and ask for the heart of God. For His heart will forever change you.