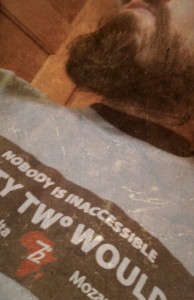 That is maybe not 'the' question, but it is 'a' question. And an annual question, at that. I seem to ask myself this same thing every year when holy week rolls 'round. I know … an odd question, especially for the likes of holy week. And, in actuality, it doesn't often take too much thought to determine that I will shave my beard come the night before Easter. Though, there is always the hesitation. It's become somewhat of a ritual these past few years. Grow, grow, grow in the depths of winter. Then start anew come Easter. I consider it of some spiritual symbolism, I suppose. The resurrection we recognize on Easter ushers in a freshening and a newness. When the whiskers fall and my bare skin senses the subtlest breeze, I'm reminded of the revitalizing that has come with spring.
Yet, just weeks ago, we had a strong wind, and I was able to feel the force of it caught in my beard for the first time. That was a pretty solid experience and made me certainly reconsider whether I should bid my beard farewell this year.
Oh, and did I ever tell you I wrote a simple beard song? (This was a year or two ago). I have yet to record it, but here's the lyrics …
My beard holds bits of bread and barley
When I'm at a meal – when I'm at a party
My beard holds bits of bread and barley
My beard, my beard

My beard unites me with my brother
With he that feasts – with he that hungers
My beard unites me with my brother
My beard, my beard
And, I must tell you, there is some strange truth to that second verse. It's a wonder what social walls a beard can break through these days.
So, what do you think? Shall I continue to beard or not to beard?