If you've not yet heard, a good many of us are observing the beginning of a new year. Twenty-Sixteen is upon us. Yesterday I took a personal wellness day (we are blessed at the Prayer League to be allowed one personal wellness day per month). I had the intent of reflecting on this past year and then turning my thoughts toward all that might come in this new year. The day didn't quite turn out that way. I did spend some good time in prayer and the Word, took in a bit of the final live streaming sessions from Urbana15, and played a song or two on my guitar. The rest of the day was spent with family and welcoming the new year with the Swanson family. They stayed over and we had some good fellowship today, as well.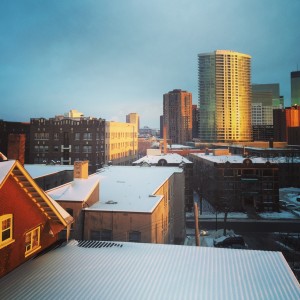 This morning, I was up early with the kids and we were able to watch the first sunrise of the new year. I don't know that I've done that before. If so, I can't remember. Here it is illuminating Minneapolis.
So, what do I look for in 2016? That's what we're supposed to do on the first of January, right? Make some great plan for something new? I do have a few thoughts on where I'd like some of my attention given during these first few months of this year. In no particular order:
Continue regular blogging here.
Return to some more personal journaling with pen & paper.
Post a daily photo to Instagram – UaMV. (the first is seen above)
Begin some sort of daily exercise routine.
Consistent daily Bible reading.
Read a short list of books, including the remainder of the Oswald Chambers books in our WMPL library, Subterranean, Oikonomics, The Yearling, The Brothers Karamazov.
Play my guitar more regularly.
Begin some sort of local volunteering or regular engagement with the community.
Take on a few more freelance WordPress web projects. (Let me know if you have any leads.)
Be more consistent and intentional with family devotional time.
Define and respect technological boundaries at home.
Begin teaching Aelah healthy use of tech.
Better tracking of family finances.
Now that I write it all down, I can see it is quite an ambitious list. And, I know it is not exhaustive. There are certainly things I'm overlooking. How about you? How are you looking to enter into 2016?